Strange Fellows Brewing and OH Studio Project are thrilled to announce the dates of KRAMPUSMARKT 2023! In celebration of everyone's favourite baddie – Krampus – this Old World-inspired Winter Market brings some merry lightness and goodwill to the darkest days of the year.
Expect the unexpected & extraordinary as you explore a wunderkammer of ceramics, jewellery, leather, textiles, baskets, chocolate, baked goods, stationary, glass, wall art, coffee, perfume, florals, ethical clothing and skincare, and more from 30+ unique artisans… all enjoyed in a festive atmosphere with a glass of cheer in hand! We will be joined by Top Rope Birria Food Truck too.
KRAMPUSMARKT HOURS
Friday, December 1st, 8pm-10pm
Saturday, December 2nd, 11am-6pm
Sunday, December 3rd, 11am-4pm
General Admission $5 – at the door (under 18 free). Purchase tickets online and they'll include a 6oz pour!
KRAMPUSMARKT Opening Reception
Friday, December 1st, 6-8pm
A festive evening of first dibs on one-of-a-kind creations, seasonal music, drinks & nibbles. 
*Tickets $25 – includes nibbles & a drink (beer/cider/wine) 
PHOTOS WITH KRAMPUS
Once again, Krampus has agreed to play nice and sit for photos with his fans. With friends and family in tow, turn out in your best goth or festive attire and carry on the tradition. By Donation to Vancouver Food Bank
Saturday, 12-3pm
Sunday, 12-2pm
Strange Fellows Brewing is located at 1345 Clark Drive, Vancouver.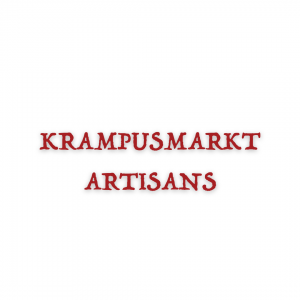 Aja Billas is a ceramic artist who makes functional hand-built and wheel-thrown ceramics. She studied at the Emily Carr University of Art + Design and has a BFA in Ceramics from the Albert College of Art + Design. She currently works as an Interdisciplinary Technician while maintaining her ceramic practice.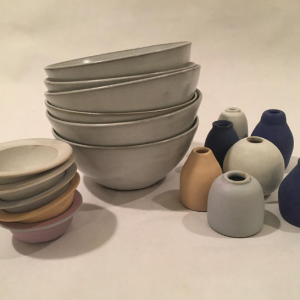 Founded in 2016 by Erika Ekeli a multimedia artist, comes a careful curation of precious objects & jewellery. As seen on Netflix's Riverdale, Chilling Adventures of Sabrina, the CW's Charmed, Amazon Prime's UPLOAD, and many more prominent shows.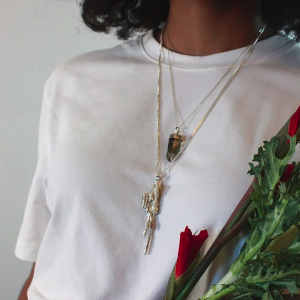 An evolution of Canadian fine artist Denise Wilson's painting, drawing and printmaking, Bronsino's limited edition leather creations combine a street-style aesthetic with timeless European design.An elegant answer to fast fashion, our work mixes traditional techniques and modern tools to give new life to virgin leather, reclaimed garments and premium upholstery surplus. At its core, Bronsino is about transformation: Respecting the old, cherishing the forgotten, and taking traditional material in unexpected directions.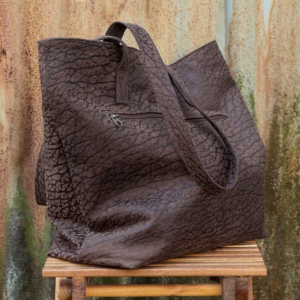 FINE FEATHERED FRIENDS – Bird Portraits by Christine Moulson
Since ancient times birds have been interpreted as heralds & harbingers… from a Robin signifying the arrival Spring, a Hummingbird thought of as a visitor from the afterlife, to the disappearance of birds as a sign of climate change… I make the likeness of birds – both the common and the imperiled – to serve as a tiny reminders to take the time to enjoy our feathered friends & to listen to their tidings. Ceramic bird heads – Raku-fired to embody chance and beauty in imperfection – and mounted bird profiles of layered Chiyogami papers and beeswax.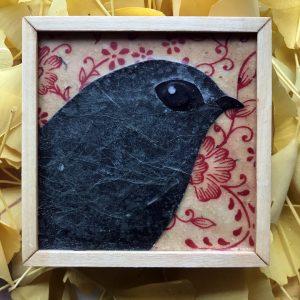 The main objective of Conscious Care is to offer high quality and conscious ingredients while weaving Mother Earth's healing, love, and care into the end product. Where possible I source and use organic, local, and wild crafted ingredients.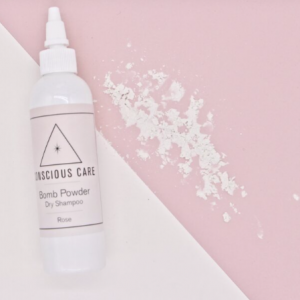 Sound of the waves, sweet scents of the forest, unforgettable sunset coastline. This is where land, fresh water and the sea are integrated to form unique habitats and lush forests.
This collection is dedicated to our precious home, West Coast Nature.
With gourmet flavour pairings and a mere fraction of the sugar, East Van Jam produces fun and guilt-free spreads inspired by the eclectic variety of characters that make East Vancouver so unique. Made locally with BC produce and so much love, less sugar means there's way more fruit in every jar.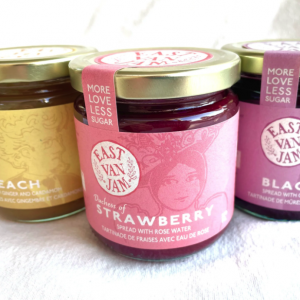 I suspect you are just like me: a homebody through and through or maybe you just love uber cozy spaces. Knowing you are out there fuels my desire for creating special pieces and modern heirlooms that make the moments at home feel special, sacred and cozy. Wabi sabi is a practice that I fully embrace making my creations truly one of a kind, no two mugs, lanterns, pendants or bowls are meant to be exactly the same. They each have soul and that is what I want you to feel.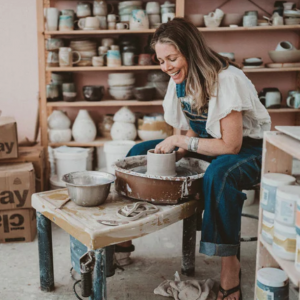 Eikcam ceramics is a home decor collection designed and handmade by Vancouver artist/designer, grace lee. Most of Grace's work lends a sense of naturalness and whimsy which serve as functional pieces for the table or home.
The artist's approach to design remains a kind of layered simplicity. She often combines different textures with hues and colors to complement the form, shape and functionality of the piece.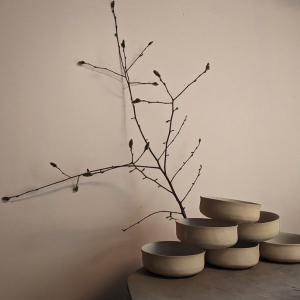 Naomi Joy Yamamoto graduated with distinction from the Fibre Program at the Alberta College of Art and Design in 2006. On travel scholarships, she has been able to visit Spain, Tibet and China. During her studies, she had the opportunity to intern at the Haystack School of Crafts on Deer Isle in Maine. After she graduated, she was a fully funded artist in residence at the Banff Centre for the Arts in Banff, Alberta. Finally, in 2007, Naomi created Flightpath Designs to bring together the three muses that move her the most: travel, design and textiles. It was love right from the beginning.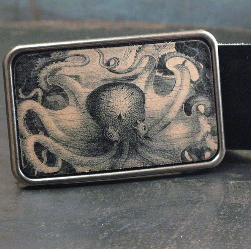 All pieces are handmade and one-of-a-kind in my studio in Vancouver using borosilicate glass, a very durable form of glass commonly used for laboratory glassware. Borosilicate glass is formulated with various oxides to create these beautiful and unique colours.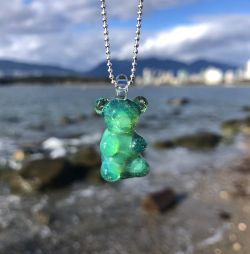 Contemporary functional tableware.
My work is of Porcelain Ceramics, a set of functional shape and individual pieces. It is important to me to create communication, a 'conversation' between form and surface. In my intimate relationship with each individual piece of work becoming an extension of how I respond to movement of the wheel and the clay.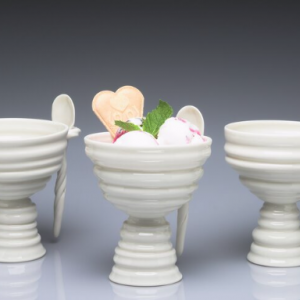 Ka-or-tik a situation that is both orderly and chaotic. Kaortik creates handmade fun, colourful geometric designs with raw brass, silver and polymer clay!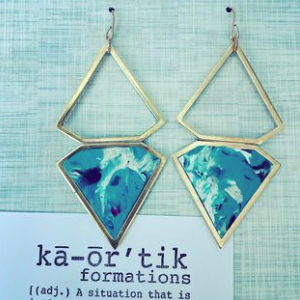 We create pure, kind, and beautiful bean-to-bar chocolate by sourcing clean, ethical ingredients for chocolate lovers seeking joy through the decadence of chocolate.
We use high-quality organic ingredients to make our refined sugar free and gluten-free bean to bar chocolate.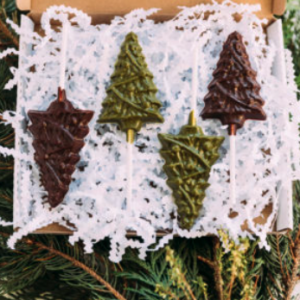 Logan Thackray is a visual artist and illustrator. Their ways of sharing and creating reflect the real and imagined worlds that we move through. Logan has spent the last 5 years teaching and facilitating creation and is dedicated to exploring her professional artistic practice. They find their inspiration through the wild and unexpected ways that humans and other living beings collide. Themes such as nature, personal mythology, and self-inquiry have continued to propel her creative exploration.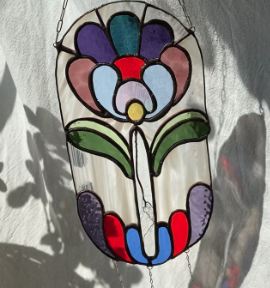 MAMEYO is a fusion of Maxine's love for graphic design and traditional craftsmanship.
Each piece is carefully hand crafted and designed by Maxine in Vancouver, BC.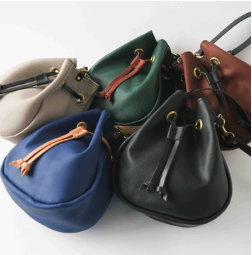 Maria Ida Designs is a Vancouver-based blown glass production company. We make colourful objects for the home with a joyful, unpretentious feel. Every piece is hand-blown, melding creativity, danger, science and molten glass into one-of-a-kind pieces.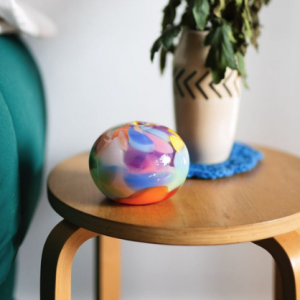 In my process, I find flow in detailed, repeated mark-making until I sense the time to move to the next series of marks in the mapping of the piece. I use watercolour, gouache, ink, natural dyes, textiles and found/repurposed material to create playful, intricate pieces. My colour palette is shaped by the luscious flora, expansive mountains and vast ocean of the west coast and Kootenay regions.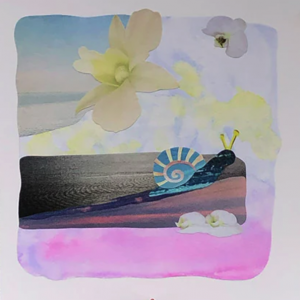 Melt started as a passion project, experimenting with techniques and ingredients we wouldn't come across in a usual chocolate kitchen. Melt is female operated, and lgbtqia owned. We are focused on sourcing as ethical and local as possible. We offer familiar and nostalgic classics, twisted into inventive and playful modern concepts.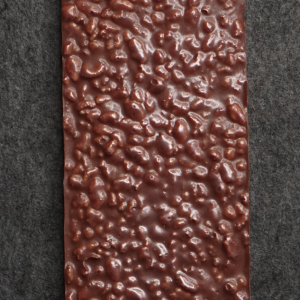 Angelica is a mixed-media artist based out of Vancouver BC. Her artwork is inspired by the moment, by the ocean, by the mountains + everything above and in between. Her inspiration is prevalent in her work, the elements shine through.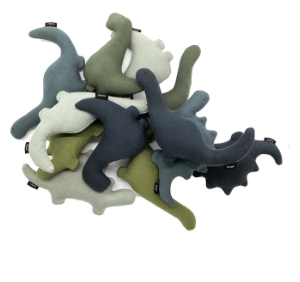 Shrubs are for everyone. They are for the experimental mixologist, the sober and sober curious, the budding bartender, and for those wanting a refreshing beverage with a unique sweet / tart flavour. All you have to do is add soda!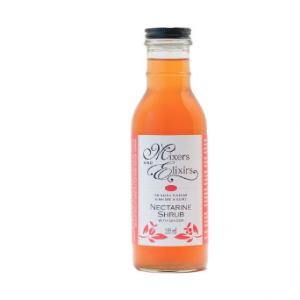 Ours is a well-worn path, quietly pioneered by generations of ranchers who intimately understood the synergy of grazing animals and the earth. We're honoured to follow their wisdom and the lessons that unfold before us moment by moment on the farm. And we're proud to be contributing in a small way to nourishing the future world by nurturing our little stretch of land.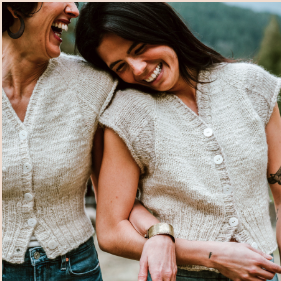 Howdy, I'm Leigh
Thank you for your interest in my work!
When not throwing pots you can find me admiring a beautiful flower, trying to talk to a dog or in my kitchen making sourdough.
I enjoy making functional items that look beautiful and are meant to be used. I work mainly with wood salvaged from urban trees that have blown over in storms, been cut down for development, or have just died. Had I not rescued the wood it would have ended up in the landfill.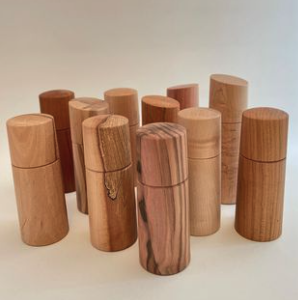 Porchlight Press is proud to be part of this tradition – not just of letterpress, but of craft. The way we see it, the letterpress renaissance is part of a greater movement to get back in touch with how things are made, and to value things made by living, breathing humans. Of course, though humans are the driving force behind letterpress, our machines are our beloved workhorses.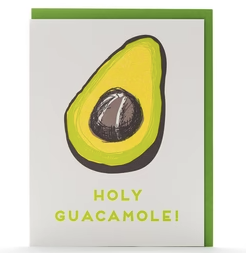 at SCANDINAZN, we craft imaginative pieces inspired by the geometric shapes and pops of colour in Scandinavian design and the subtle handmade intricacies of Japanese art. we challenge ourselves by using discarded leather as our main material component. SCANDINAZN is all about promoting creative self-expression and sustainability through our ethically-made jewelry.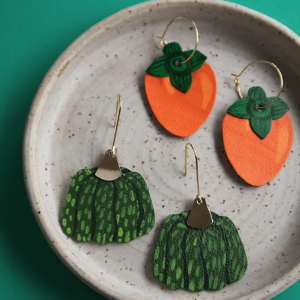 A graduate of the Craft & Design Program at Sheridan College with a major in Glass, Sonya Labrie has focused her career on designing and creating functional, wearable, and sculptural works in blown, kiln-formed, and flameworked glass.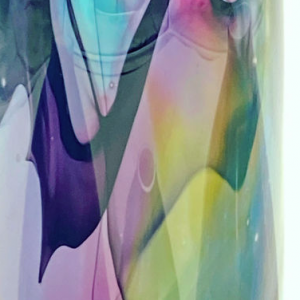 Architecturally inspired, minimal jewellery and interior design pieces. Each piece is designed & handmade from clay in our Vancouver, Canada studio.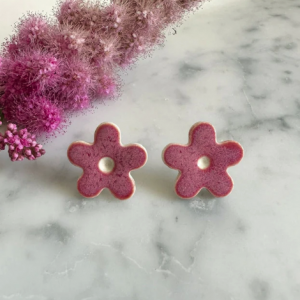 Handmade items made by three raccoons in a trench coat. Based out of my DTES/East Van SRO, I make subversive and humours screen printed patches, totes, and upcycled modified clothing. Find them on our etsy and follow on Instagram @threeraccoonsstudio to find my next pop up/market.
Launched in the spring of 2006, TOODLEBUNNY Designs is an imaginative jewellery collection with feminine yet edgy pieces. Clean lines and bold simplicity are combined with whimsical charms creating modern adornments. The pieces vary from being simple and pretty to ones that are a bit more rock n' roll…something for every woman.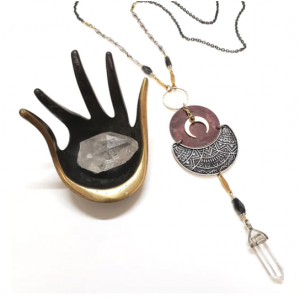 ZULA Jewelry exists to serve as a bridge between the Natural World and You, designed to represent and deepen your connection to the Earth, the Cosmos and your truest Self.