Are you looking for a donation?
Thanks for thinking of Strange Fellows Brewing for support of your next event. We feel strongly about supporting initiatives within the arts, education, and those things closely connected to our local community. Over recent years we have chosen to make these a loose criteria for charities we support as they reflect who we are and the community we live in.
If you're looking for a donation from Strange Fellows Brewing for any charitable initiative, please read through the Guidelines and Criteria for Donations first then fill out and submit the form at the bottom of this page. We may have more questions based on your application but we promise to do our best to get back to you in a timely manner.
General Guidelines and Criteria for Donations
Worthy causes and organizations are abundant in our community. In the hopes that any support or donation we give will have the most impact, we have chosen to focus our efforts within particular initiatives rather than spread across many. These reflect our companies core values.
We look for charitable initiatives that are related to the arts. This may include assisting with arts education, helping groups that bring arts to the greater community in a way we feel elevates our society, and supporting artistic activities in our community and our schools. To be charitable arts activities must be undertaken in a way that ensures that any resulting private benefit is incidental, meaning that it is necessary, reasonable, and not disproportionate to the public benefit that is delivered.
Initiatives that support childhood education around East Vancouver and other publicly funded education will be considered. Most often this includes helping neighborhood school groups raise money for programs where additional funding will make the most difference.
Support of local and civic community based initiatives and groups will be considered. These include helping supply the needs of local families through support of organizations that work within the community. More specifically we want to build income equality and erode poverty.
For the most part our support is by way of donations of beer for fundraising events or by providing silent auction and raffle prizes. As we are a small company providing staff to serve/pour beer is not often possible so events where servers are already available is ideal. Note that serving alcohol in British Columbia to the public requires a SIR (Serving it Right Certification) which can be obtained through a short course here:
All donation requests should be made at least 2 weeks ahead of time. If you're requesting service staff for your event, we will need at least 3-4 weeks of notice. Please keep in mind, we are more likely to be able to meet your request if you do not need a server and if you are able to provide some basic bar equipment/supplies.
Finally, although there are many worthy causes we have a fixed budget for donations which means that we may not be able to fulfil your request this time around.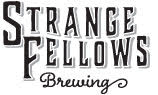 1345 Clark Drive,Vancouver, BC, V5L 3K9
iain@strangefellowsbrewing.com
M 604 836 2952