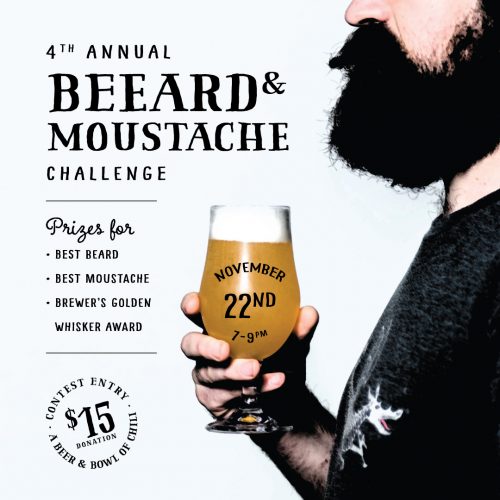 BEEARD & MOUSTACHE CHALLENGE
We challenge YOU – the bewhiskered and moustachioed – to join us Thursday November 22nd for a friendly contest in honour of KOUTZOULAN (the Most Terrible Wolf Day), and to help raise funds for 2 Paycheques Away (a local non-profit that provides free haircuts to residents of Vancouver's DTES).
Your $15 donation gets you Contest Entry plus a beer and a bowl of chilli.
Prizes will be awarded for Best Moustache, Best Beard, Best Try-hard, and the Golden Whisker Award – awarded to the most hirsute member of the brewing community.
So oil your beards, wax your tips and get ready to show off in style all in the name of fun and philanthropy!
Koutzoulan, a.k.a. The Most Terrible Wolf Dayis an Old Country tradition that honours the revered and feared Wolf, that devourer of livestock and little old ladies. To avoid illness and bad luck, superstition dictates that on The Most Terrible Wolf Day people must not wash or comb their hair, wear clean clothes, nor cut bread with a knife. Above all they should not leave the house after dark for fear of being eaten by the Wolf.
Maybe we're not all superstitious, but it wouldn't hurt to stay indoors and join friends at Strange Fellows' to celebrate all things hirsute, and support a local charity at the same time
---