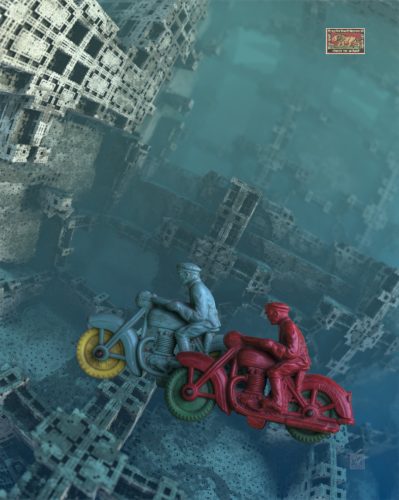 MILES VAN YPEREN – PROTOMAN
In the gallery this month hangs a collection of prints by 3D digital artist Miles van Yperen. Each frame offers a view like a porthole onto some strange landscape, inhabited by comfortingly familiar creatures. At least we are not alone!
"My artwork is a combination of 3D software images and photography. Sometimes the two are combined; sometimes there is simply a 3D image or a photograph. The 3D software I use is called Mandelbulb3D, which is based on fractal mathematics and not the typical polygon models used in animation and film.
My background is in the visual effects industry, specifically in teaching and production. My true passion is fine arts and now that I am retired I am focusing my knowledge and skills on still images." MVY
You will see a fair bit of my vintage toy collection in some of my images. It is an odd mix, but keeping it weird is normal for me.
EXHIBITION: September 1st through 29th
RECEPTION: September 11th, 7-9pm
protoman.squarespace.com
---