Ceramic Growlers for Sale – Monday May 11th
The day is finally here … or at least just around the corner.  On Monday May 11th we are going to sell our 40 ceramic growlers.  In total we have the following available to sell:
20 – 32oz (946ml) ceramic growlers – $80 each
20 – 64oz (1.89L) ceramic growlers – $100 each
Each of these growlers are hand made in Eugene Oregon, by the highly talented ceramist Jayme Allen. Instead of firing his hand-made growlers in a electric kiln, Jayme uses a wood fired kiln, which gives each creation a one-of-a-kind appearance and instantly makes each growler a collectors item.  The following photo is taken of the growlers just after the wood kiln firing process.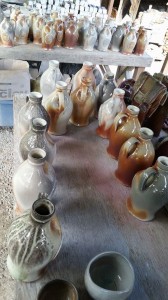 There is no doubt that these growlers are expensive, but given the hand-made nature of these pieces, we are pretty sure you will fall in love with them.  If you want to come by the brewery and have a look for yourself, we have 1 growler on display.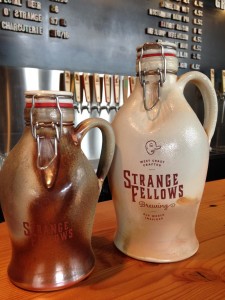 How do you get your hands on these growlers?  Well, we have no idea if 40 people will line up to pay $80 or $100 to buy one of these?  On the off chance we do, we have devised the following process for people to buy them.
On or before Sunday May 10th send your full name, email address and full contact information with the subject line "Ceramic Growler" to info@strangefellowsbrewing.com
We are not able to guarantee any particular size to anybody.  We will take your preference into account, however if the first 40 people selected only want 32oz growlers, then only the first 20 will get them and the remainder will only get 64oz growlers if they are open to receiving them.  Otherwise, we will keep drawing names of people until we find people who are interested in either both sizes of growlers or the size we have remaining
If we don't get more than 40 people interested, all interested people will be selected to receive one of these growlers
If we get more than 40 people wanting a growler, we will be doing a draw on Monday May 11th at 5pm at the brewery.  If you want to show up, you are more than welcome to join us
If your name is selected as one of the 40 winners, you will have exactly 48 hours to arrange for payment of the growler.  Your only 2 options are to pay in person when you pick up your growler or to pay by phone and pick up your growler at another time.  Again, you need to pay within 48 hours or else we will move down the list
If your name is not selected as part of the original 40, don't despair as we will be selecting 10 additional names that will be given the option of purchasing a growler should any of the original 40 people not be interested
Please note, these growlers require special care and attention and are easily broken & cracked.  They are not meant to be used as an everyday growler and Strange Fellows Brewing and its employees are not responsible should your growler become damaged after purchase.
Surely there will be questions, and we are here to answer them.  As I get asked questions, I will add to this blog post.  Good luck to everyone.
---